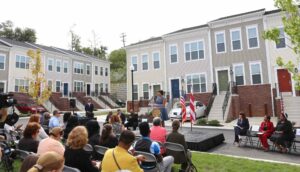 On Monday, September 28, Mayor Bowser and Ward 8 Councilmember LaRuby May joined WC Smith and their development partners to celebrate the completion of Sheridan Station (#sheridanstation), a 327-unit mixed-income HOPE VI project near the Anacostia Metro Station.
The ribbon cutting marks the completion of 247 rental and 80 homeownership units. The development includes a medical clinic, community rooms, solar panels, Energy Star appliances, on-site parking and a new playground. Built to high standards of sustainability, Sheridan Station includes the first multifamily building in DC to be awarded LEED platinum designation.
"Sheridan Station is a $100 million investment in high-quality transit-accessible housing for residents at a range of incomes," said Chris Smith, Chairman and CEO of WC Smith. "We think that Sheridan Station will be an asset to the neighborhood, as well as a model for affordable and environmentally-friendly multifamily housing."
"This new transit-oriented, sustainable community is another example of what we at DCHA strive for – affordable, safe and healthy neighborhoods for our families of all economic levels in the District," said DCHA Executive Director Adrianne Todman.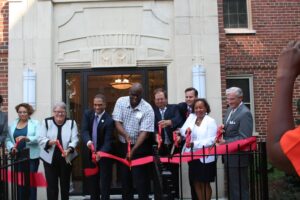 Washington DC (September 1, 2015) – WC Smith, in partnership with the Tenants' Association and the Latino Economic Development Center (LEDC) as well as lenders and city agencies, today unveiled the first building at Juniper Courts at 7701 Georgia Ave NW. The apartments in the two buildings at 7701 Georgia Ave and 7611 Georgia Ave are being completely renovated under an innovative partnership that allows the residents to remain in their neighborhood at affordable rents.
During the renovation, residents of 7701 relocated, either to 7611 Georgia or to other sites. They are currently moving back into the newly renovated apartments at 7701. Once the moves are complete, the second building will be renovated. The modernized apartments boast new appliances, including dishwashers and microwaves, new windows, refinished hardwood floors and energy efficient lighting and fixtures.  The original mosaic tiled hallways have been preserved and refinished. The building also has a new rental office, camera security system, and a community room with computers for resident use.
"Preserving affordable housing is key to the success of city." said Chris Smith, Chairman and CEO of WC Smith, "It is important that people can afford to stay in their homes and share in the economic growth that the city has experienced over the last 20 years. We are pleased to have successfully worked with the Juniper Courts tenants to maintain this community."
"Partnerships with private developers allow us to extend our reach in helping people afford the high cost of the living in the Washington area." said Marla Bilonick, LEDC Executive Director. "Juniper Courts is an excellent example of how these partnerships can work and be successful."
WC Smith is a DC-based company that has been providing real estate development and property management services since 1968. LEDC is a local nonprofit that run programs to help Latinos and other DC-area residents learn how to buy and stay in their homes, take control of decisions affecting their apartment buildings, and start or expand small businesses.